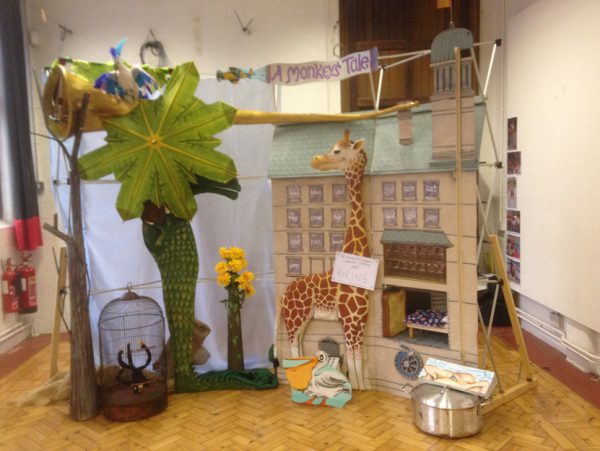 A Monkey's Tale
100th Anniversary of Roald Dahl
Working with Emergencey Exit Arts I was asked to Design and create an interactive installation/Presentation for young children for Greenwich & Lewisham libraries.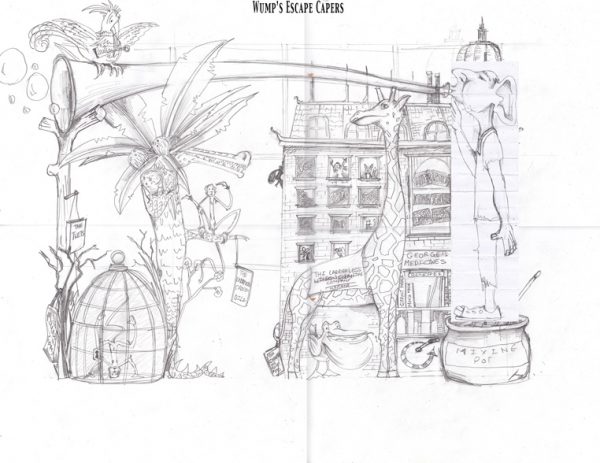 The starting point for the display was a collapsable aluminium frame which once pulled out  presented a grid of 3×4 75cm squares standing on a slight arc.
From this we brainstormed various angles which drew me to the idea of a game or journey.  I revisited and expanded my love of Roald Dahl's writing and the distinct imagery of Quentin Blake & shifted towards the stories involving animals. This clinched Muggle Wump as our hero.
The story follows Muggle's journey starting upside-down in his cage, to escape helped by the Rolly Polly Bird. He then meets the Enormous Crocodile who is hiding as a Palm tree. Trying to keep out of trouble he then gets a job in a strange team with a Giraffe and a Pelican cleaning the windows of a Mansion House. Hunger reaches him and he plays with what to have on an enormous piece of Toast. Now Full-up he snuggles into his bed and dreams of a Big Friendly Giant who blows magic from a Giant Trumpet.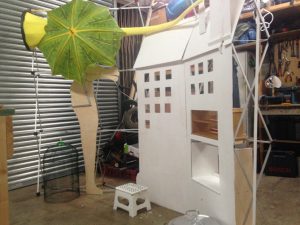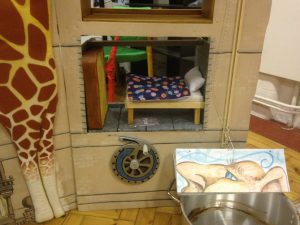 From the start the participating children (up to 15) are asked to make Monkey ears , learn a dance and become Muggle's helpers. Throughout, key sections of Dahl books are read and the Helper's interact with the display.
Each clean a Window removing a magnetic panel with a Word Part smeared on and reveal a character from a story underneath. They then combine these Word Parts as toppings on a piece of magnetic Toast e.g: SQUID-WHIZZ-JAM.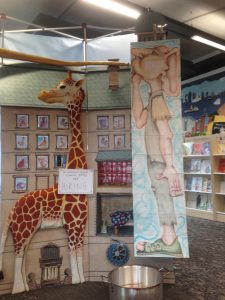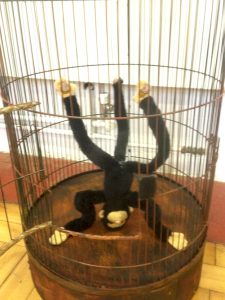 When Muggle sleeps a break-out activity asks everyone to make a dream to put in a dream jar. These are then emptied into a giant Pot, with each one a magic handle is turned which slowly reveals the BFG. At full height his lips touch the Trumpet and Bubbles come flying out the end for the little Monkeys to play in.
The whole thing is hosted by a "Storyteller" and someone playing "Muggle". The display is designed to tour (packs into a car) and will be used in many different libraries.Training days were given to learn assembly and dramatic content.
Dramatic Development & Script by Natasha Cossey with Rebecca Gediking
Fabrication Assistance: Toby Saunders, Iola Weir and Bekki Stewart
Presenter – "Right little Muggle Wumps you have all been hired. We need to swear you into the team. Everyone stand up and place your left hand over your body. Repeat after me…"
Presenter with Muggle Wump & Children repeating:
 – "We're a fabulous crew,"
–  "We know just what to do'"
–  "And never stop work to drink tea,"
–  "All your windows will glow,"
–  "When we give them a go,"
Presenter – "The Giraffe, the Pelly and ALL OF YOU!"
ALL ACTION – MUGGLE CLEANING WINDOW DANCE – Shout and jump like monkeys.